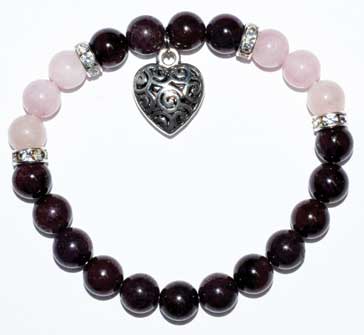 Garnet and Rose quartz 8mm round bead bracelet with a heart.
Regular price $16.00 Sale
These 8mm rose quartz bracelets come on an elastic cord and stretch to fit most wrist sizes. Rose Quartz is called the love stone associated with the heart and throat chakra and is used for love, compassion and happiness, also helps with emotional healing. When worn it helps with personal trauma and to over come stress.
 Garnet helps creating what you truly want, manifesting, healing, self-worth, cleanses & re-energizes the chakras. It was said to worn of danger and was long ago often carried as a protective talisman. Garnet is also great to help with faith matters. Inspires love and devotion, and believed to bring success in business matters. Garnet has a deep red tint to it that shines when in light.